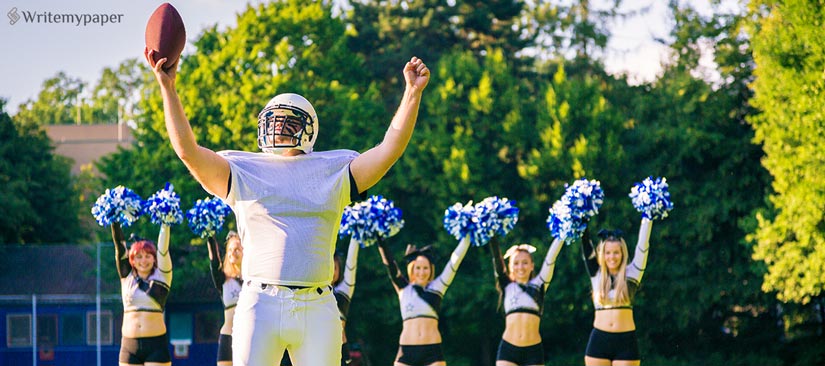 Cinema has made us to perceive the American colleges as a place where bright and outstanding youth get a kick out of life. In all such films, there are always fashion girls and their boyfriends, the "muscleheads" playing football. However, the football is not the only sport activity to devote your time. In real life, you have a variety of options: Bowling, golf, wrestling, tennis, swimming, and even frisbee. In that regard, every student has the opportunity to choose that type of sport that will suit him/her the most, considering personal traits, physical abilities, and personal preferences.
Main Things About Playing Sports in College:
Almost every college has its sport association that offers every student the chance to play in the competitive kinds of sport at the varsity level;
Most of those who play sports fall within the scope of those who can get sports scholarships;
Unlike the youth films about college, the athletes have to meet all educational requirements. Let us do not forget that the first reason to be in a university is a study, then sports;
Considering the previous point, it is of a high priority for an athlete student to be flexible and have strong time management skills to perform all required duties, pursue study purposes, and attend athletic trainings/games;
The existence of sport clubs and intramural leagues gives the chance to all students to engage in sports activities.
"Varsity"?
If this word is new for you, then you should know that it means "university level." If you are going to play sports on a college level, then your team will perform such functions:
Perform on behalf of college;
Compete with other teams;
And get some financing from their athletic division.
Associations
There are diversified sports associations that maintain control over all sports teams of a varsity level. We could distinguish three of the most important:
National Collegiate Athletic Association (NCAA);

It is the biggest and surely the most famous of the school sports affiliations. When you watch university teams on television, you are generally viewing NCAA competitors.

National Junior College Athletic Association (NJCAA);
National Association of Intercollegiate Athletics (NAIA).
Playing in a Club and Intramural Sports
If you do not feel enough of strength, physical and moral, to be in sports on a varsity level, then certainly you would like the variant to attend a local sport club or be in the intramural league.
Clubs
Teams of local clubs are similar in a way to the varsity-level ones, however, they, as a rule, play with other club teams. What is more, on the top there is no association; such clubs are ruled mainly by students themselves. Games and time responsibilities can be extreme for club sports — groups might be included in a local meeting or play in a national tournament.
Intramural Sports
This type implies that every student, regardless of his/her previous background, has a right to take part in the competitions on the intramural (faculty) level. It includes most part of common kinds of sport such as basketball, soccer, or softball. Sometimes, however, there are teams in such sports as dodgeball, inner-tube water polo, or video games.
So, as you can see, dear reader, there is a great variety of sport opportunities for you to use. The main things are desire and eagerness.