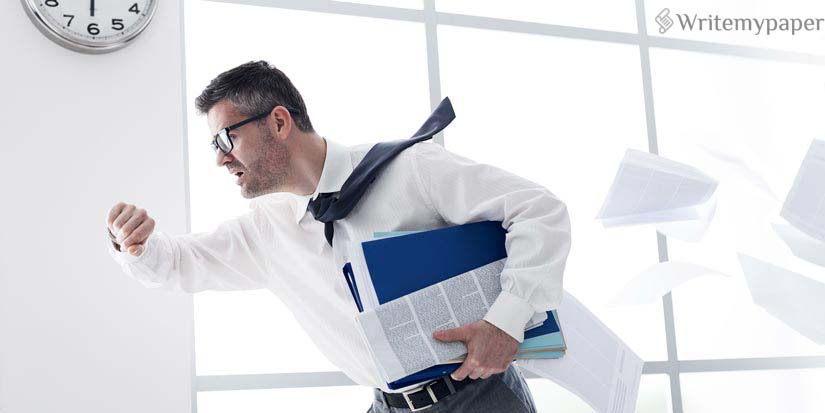 You were late. Lecturer's reaction can be different. Someone pretends not to notice, somebody makes brief comments. Even if your professors are not as severe as Chinese ones, they could want to hear a clear answer with the reason for your lateness.
Resourceful people always know what to say in such cases, but if you are too sleepy, you could have some problems. Here you have ten reasons which could justify your lateness for a study.
You Can Turn On Your Imagination to the Full
Recently, I feel someone's presence in my room… It seems to me that supernatural forces have settled nearby. They turn off my alarm every morning. I assume this has happened today, so I was late.
You Can Call a Spade a Spade
My roommate was trying to comprehend the secrets of the universe. Eventually, he has lost the sense and bitten me before leaving the apartment.
You Should Go Back to the Drawing Board
I have had a headache before the bedtime. I found a tablet of aspirin in my roommate's drawer. I cannot remember the past three days. Of course, I got back to life right before the classes.
You Can Have an Ace up Your Sleeve
I conduct social research about the reaction of university academic staff on the students' lateness. What do you feel? Anger? Indignation? Compassion?
If You Are All Fingers and Thumbs, You Will Be Able to Use This Explanation
If you do not forget, I have to bring you an explanatory about my lateness. Well, I was working on it during the whole night. Finally, my body could not stand it, and I fell asleep and slept through the alarm. I was so sleepy that I have spilt coffee on the explanatory.
If You Are at Your Wits' End, This Helps
The aliens were trying to steal me. I have given a fitting rebuff and have come here just belatedly.
Sometimes You Cannot Make Head or Tail of the Situation
I noticed someone had beaten the unfortunate foreign student. I decided to stay to give him the first aid and, therefore, could not arrive in time.
You Can Change a Fly into an Elephant
I follow the advice of our philosophy lecturer and never hurry.
Sometimes It Is Useful to Blow Your Own Trumpet
Well, I am the only one, who has done the homework a semester ahead. I have also written a course paper and proved Fermat's Last Theorem. So, I had long met with force before going to the university. You know, geniuses are very shy.
Sometimes You Need to Choose a Soft Option
In the case of winter: it was snowing the whole night, transport made his way through the drifts barely.
You Can Carry the Can
In case you missed a political science, "I had a talk with my voters".
Hopefully, your lecturer will understand you and let you take your seat. Although most likely you will be asked to leave the class after such explanations.